This model – which remains compact and suitable for less spacious surgeries even though it can be converted for left-handed use – is built to be practical and versatile. Quickswitch reversibility ensures the dental team can take advantage of optimal ergonomics. Thanks to the outstanding agility of the relative arms, the module can be positioned to meet every clinical need.
The Puma ELI Ambidextrous with hanging tubes has an arm system that allows the dentist's module to be positioned anywhere within an extensive operating area, to the patient's right or left. The assistant's module is, thanks to the extensive support arm, always readily available for use during treatment whether an assistant is present or not.
The layout has specifically been designed to facilitate pick-up; for example, instruments are placed in holders with tilt angles that vary from the central holders to the outer ones.
Comfort for patient and staff alike is a must, contributing to excellent outcomes, however serious or superficial the treatment. Patients who feel at ease will be more collaborative, providing benefits for the dental team too. That's why the Puma ELI Ambidextrous has been designed to maximise patient comfort.
The benefits of well-being
Thanks to compensated movements between backrest and seat, the patient chair accompanies the patient gently, minimising compression in the lumbar area. Fluid movement – especially during starts and stops – is always reassuring and creates a sensation of well-being during treatment.
Available as an optional feature, the padded upholstery adapts to patients of any build, ensuring proper anatomical support and maximum comfort at all times.
The importance of the assistant
Castellini has always recognised the significance of the assistant's role. That's why we provide a variety of solutions to meet every possible preference. The module arm may be of the single or height-adjustable and double-articulated type to place it nearer the patient. Connected to the unit body, the module performs the same movement both leftward and rightward.
The assistant can manage a wide range of functions via the on- module control panel. This lets dentists focus their attention on actual treatment.
To make the dentist's work easier and treatment more efficient, it's important to be able to control instruments and integrated systems via a simple, user-friendly console. Dentists can monitor and set operating parameters via the touchscreen with alphanumeric keyboard and X-ray viewer or with an optional advanced-function LCD Touchscreen.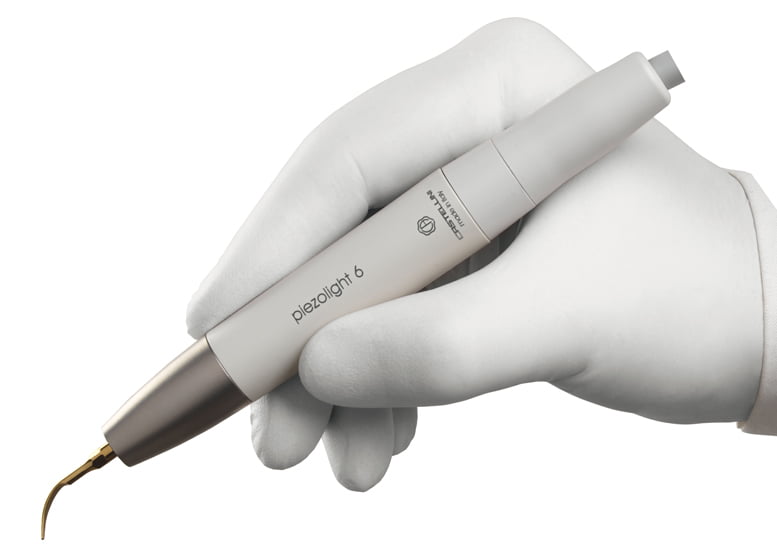 Available with fibre optic for LED lighting, the versatile and multifunctional ultrasound handpieces are suitable for prophylaxis, endodontics and periodontal procedures.
Perfectly linear and controlled ultra sonic vibrations – free from parasitic lateral vibrations – with constantly self-regulated frequency according to load and tip conditions.
Extensive power adjustment range.
Self-regulating power based on the workload to prevent heating of handpiece and treated tissues.
Coolant delivery adjustable from zero to max flow rate.
Completely autoclavable.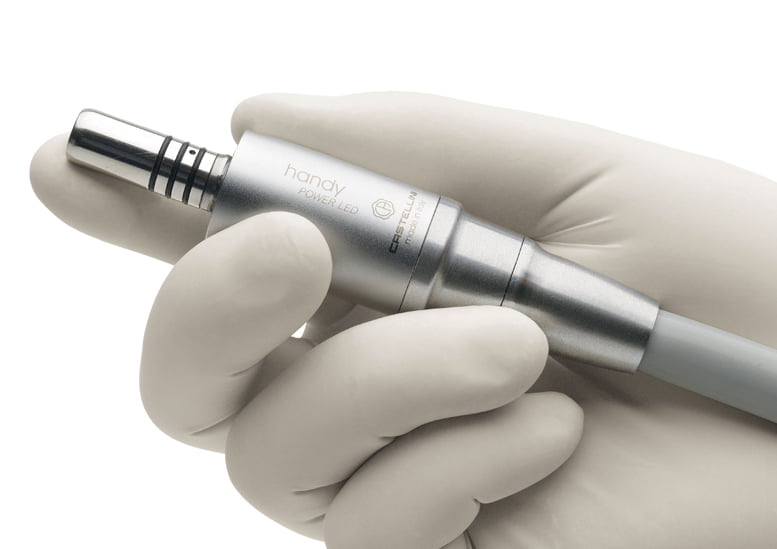 Handy Power is an extremely lightweight, compact brushless micromotor, available with or without LED lighting. Handy Power is noiseless and vibration-free. Thanks to the exceptional reliability of the brushless technology, it requires virtually no maintenance. Ideal for conservative and prosthodontic treatments.
Speed from 100 to 40,000 rpm with 1:1 ratio
Maximum torque up to 3.3 Ncm
Possibility of pre-setting maximum speed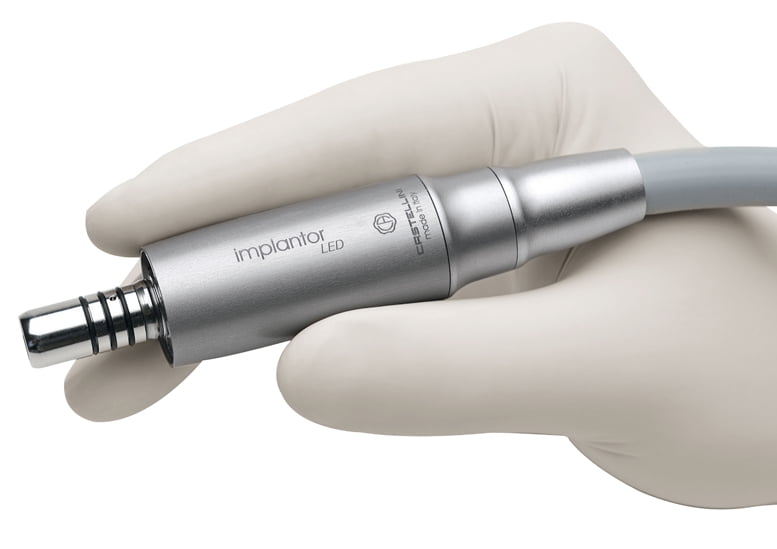 A latest-generation brushless micromotor, the Implantor LED is noiseless, ultra-light, vibration-free and characterised by extremely high torque and outstanding reliability. Performance is outstanding and, with the right contra-angle, it can also be used for endodontics (with the LCD Touchscreen).
Speedfrom100upto40,000rpm with 1:1 ratio
Electronictorquecontrol up to max. 5.3 Ncm
Completelyautoclavable.
Possibilityofpre-settingmaximumspeed and maximum torque
Featuring exceptional brightness, this lamp makes it possible to set specific temperature values as per clinical requirements: warm, neutral or cool light. The No Touch sensor can switch the lamp on/ off and adjust light intensity up to 50,000 Lux. The hermetically sealed front screen is easy to clean, and the handles can be removed and sterilised in an autoclave.
Featuring exceptional brightness, this lamp makes it possible to set specific temperature values as per clinical requirements: warm, neutral or cool light. The No Touch sensor can switch the lamp on/ off and adjust light intensity up to 50,000 Lux. The hermetically sealed front screen is easy to clean, and the handles can be removed and sterilised in an autoclave.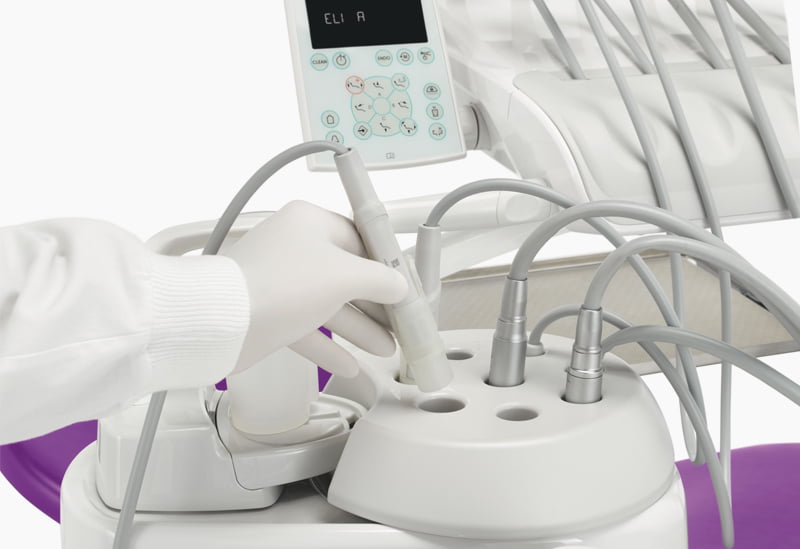 User-friendly certified systems
Thanks to close collaboration between Castellini and universities, the hygiene devices developed for Puma ELI Ambidextrous are cutting-edge and ensure a safe clinical environment at all times. As a result of long-term research and analysis, the Autosteril system is certified. Puma ELI Ambidextrous can be equipped with Autosteril, the high-standard automatic disinfection system for all the spray water circuits. Used together with Peroxy Ag+, the Autosteril system ensures a mycobactericide, bactericide and anti-Legionella action, certified by the Sapienza University of Rome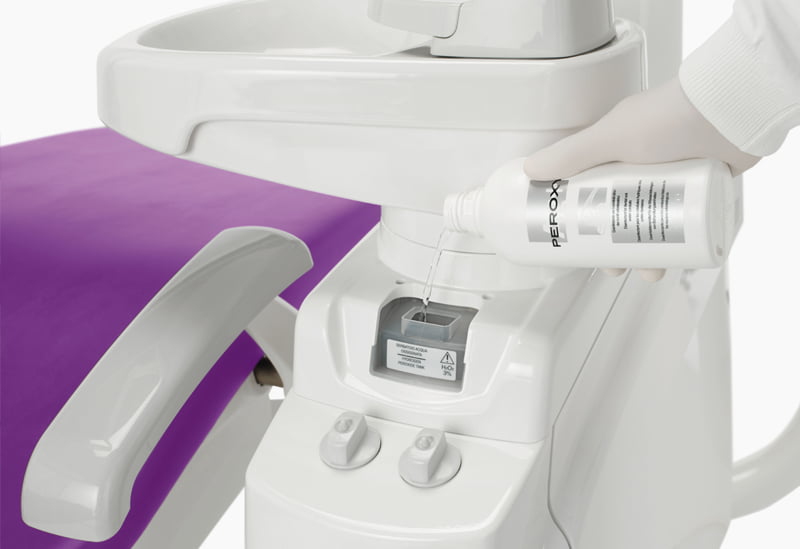 Autosteril helps sanitisation at the end of a day's session and allows short cycles to be performed via the following steps:
circuit draining with compressed air;
addition of 3% H2 O2 to the spray water circuits;
a liquid 'hold time'suitable for intensive disinfection;
liquid expelled with compressed air;
(mains or distilled) water flushing.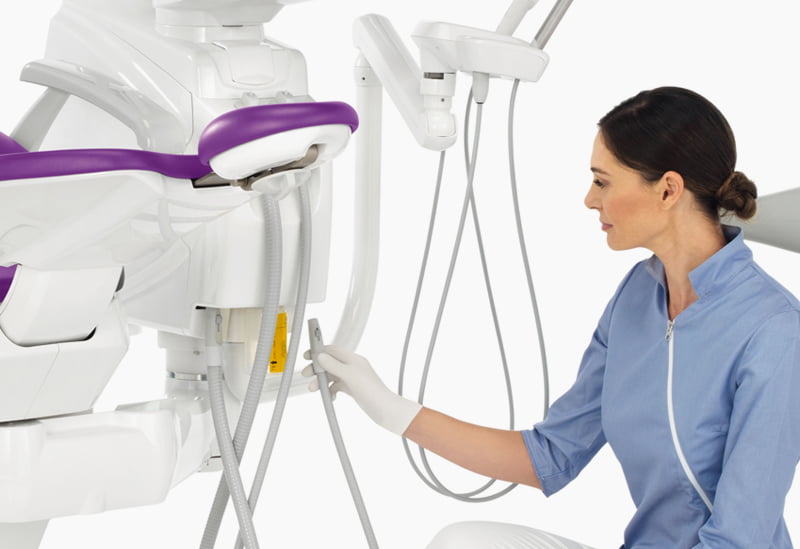 Only constant protection can effectively contrast potential contamination risks in the surgery and around the patient chair. Designed using elements and strategies that give both patient and dental team constant protection, Puma ELI Ambidextrous surfaces are built to meet all sanitisation needs. Moreover, numerous removable components help keep the workplace healthy and, as far as possible, risk-free.
Flushing and sanitisation of the suction system with water and a special liquid take approximately 2 minutes: ideal as a between-patients cleaning procedure.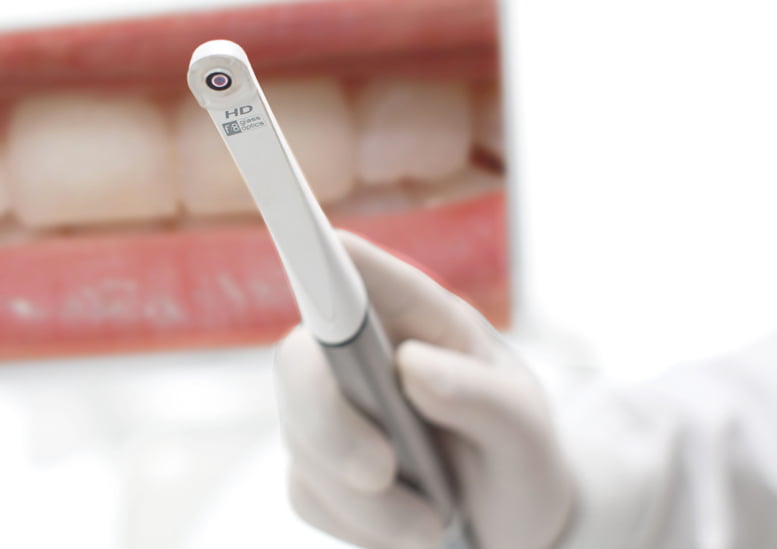 The camera features a streamlined design to improve use inside the oral cavity; it also has an ergonomic handle. HD-quality images ensure perfect rendering and maximum investigation accuracy. The optical system has a depth of field of 5 – 70 mm. The 16:9 HD sensor adapts perfectly to the LED monitor aspect ratio. The freeze-frame function is activated via the touch- sensitive key.
The easy-to-attach and remove Macro Cap accessory magnifies up to 100x to deliver detailed, extremely sharp images.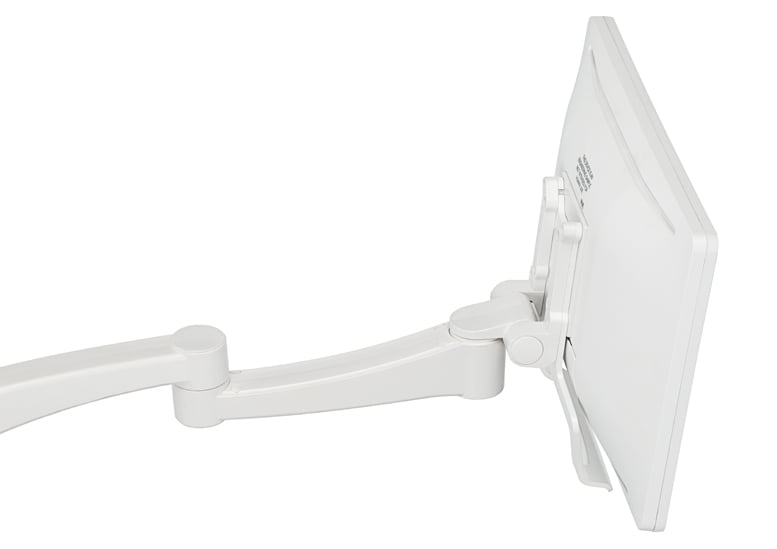 Choosing the (optional) double-jointed arm lets dentists shift the monitor and position it within the treatment area according to their needs. In addition to comfortable use for both dentist and assistant, it also ensures greater involvement of the patient via on-screen imagery.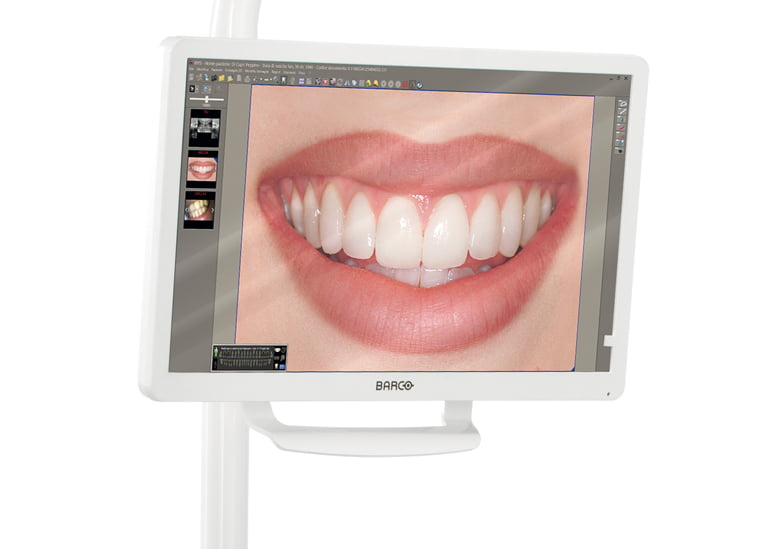 A Certified Medical Device (as per EU directive 93/42), the monitor ensures perfect image display and simple interfacing. Users are provided with a broad viewing angle thanks to ergonomic design and the special IPS panel. It can be integrated in the dental unit with either a single arm or a double- jointed arm for more flexible use.