High-frequency, constant potential DC generator
This technology gives sharp images with greater detail and lower exposure times than would be attainable with AC X-ray units, which are characterised by variable emissions.
Moreover, constant-potential design ensures image generation is unaffected by power fluctuations.
RXDC – eXTend technology is reliable for all diagnostic needs and always provides high-definition images by adapting to the sensor type.
The focal spot of just 0.4 mm is placed in the tube head in such a way as to obtain a source-to-skin gap of 30 cm (total bulk remaining equal).
In this way RXDC – eXTend technology implements extensive internal collimation of the X-rays and gives an extremely small focal spot, producing ever-sharper images and ever-more precise detail.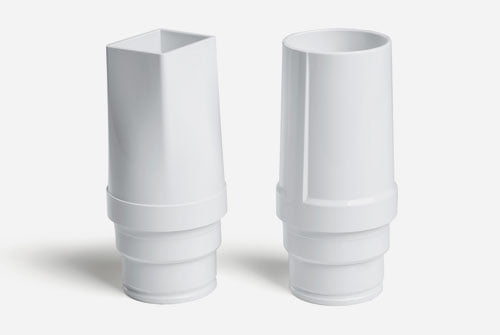 Attention to patient health is meticulous: a high frequency, constant potential generator minimises exposure times and reduces harmful radiation. Where deemed appropriate, the 4 mA mode halves the amount of X-rays. The interchangeable rectangular collimator cone (at 30 cm) further reduces the rradiated body surface area by adapting it to the effective surface area of the sensor.
Fast installation and wireless control
The efficiency of wireless technology with maximum simplicity of use.
The wireless controller frees users from the limits posed by on-machine control panels or wall-mounted controls. It is equipped with a button for ultra-fast shooting (fraction of a second) and two simple settings which make it easy to select the most suitable X-ray acquisition programme.
Simple installation, versatility, reliability
The solid extruded aluminium arms are made of high quality materials that ensure strength and durability while reducing the risk of accidental vibration during acquisition.
They are available in lengths of 40 cm, 60 cm and 90 cm and can be pointed in 6 directions to provide maximum adaptability and simplicity of installation.
Generator Constant: potential, microprocessor-controlled
Working frequency: 145 – 230 KHz with self-adjustment (typically 175 KHz)
Focal spot: 0.4 mm (IEC 336)
Total filtration: 2.0 mm Al @ 70 kV
Anode current: 4 / 8 mA
Voltage at X-ray tube: 60 / 65 / 70 kV (*)
Exposure times: 0.020 – 1.000 seconds, R'10 and R'20 scale
Source-skin distance: 20 and 30 cm
Irradiated field: Ø 55 mm and Ø 60 mm round
Additional collimators: 35 x 45 mm rectangular, 31 x 41 mm and 22 x 35 mm, for sensors size 2 and size 1
Power Supply: 50/60 Hz, 115-120 V AC ±10% or 230-240 V AC ±10%
Duty Cycle: Continuous operation with self-adjustment up to 1s/80s total
Arms: (for Standar version only) Available in 3 lengths: 40 cm – 60 cm – 90 cm
Max. arm extension: 230 cm, from wall
Certification: CE 0051, FDA approved
Versions Standard: (wall mounted) or Mobile (on portable cart)