The perfect dental machine
ALL-ROUND COMFORT
The S200 model has been designed to maximise patient comfort.
YOUR PROFESSIONAL DEVELOPMENT PARTNER
The S200 can incorporate a full range of optional easy-to-use functions and specialist instruments.
CHOICES THAT MAKE THE DIFFERENCE
Thanks to the broad selection of hygiene systems, instruments and optional multimedia applications, dentists can customise the S200 to suit their individual needs and enjoy the full potential of numerous cutting-edge devices.
Optional Instruments, software and applications for canal treatment.
Alongside the optional LCD touch screen control panel, the S200 incorporates all those elements needed to perform endodontic treatment. The apex locator is managed by the control software in ENDO mode. During endodontic treatment, essential data is displayed in a user-friendly manner.
Operating light: dentists are free to choose the configuration
Supplied as standard, the Venus Plus operating light rotates on three axes and puts out a light intensity ranging from 8,000 to 35,000 Lux. The potentiometer-adjusted light features a soft-start function.
Two LED operating lights are available as optionals. The Venus Plus – L LED incorporates a no-touch sensor for adjustment via potentiometer. The high-end Venus LED MCT option has a Colour Rendering Index (CRI) of over 95, a factor that allows ultra-high colour fidelity.
It's also possible to use 3 colour temperatures so users can select the right lighting for their specific clinical disciplines. Light intensity is adjustable up to 50,000 Lux. A broad spotlight and excellent depth of field limit the number of times the dentist has to reposition the lamp. What's more, "composite" mode can be activated quickly to prevent premature composite polymerisation.
In ergonomic terms, the S200 Continental offers maximum flexibility, ensuring easy adaptation to a variety of operating styles. The dentist's module is compact and light. Extensible instrument tubing eliminates wrist fatigue and balanced instrument levers eliminate interference with the operating light. Equipped with a touch screen with X-ray viewer, the module provides dentists with the usual conservative dentistry functions and lets them read essential data and work parameters on the alphanumeric display.
Rationalised operating space and excellent module mobility.
In addition to the smooth handling, its design makes for a more orderly work area. Dentists can add optional elements such as the sixth instrument and X-ray viewer.
When placed in their holders, instruments are supported securely and arranged diagonally to optimise ergonomics. The syringe is positioned vertically at the start of the handpiece holder, ensuring a good grip.
Orthodontic essentials, uncompromising quality
Tailor-made for orthodontists who want a hindrance-free work area: dentist's module complete with instrument control panel and display on the assistant's side, a large tray holder on a pantograph arm and the option of incorporating a 22" LED monitor to share the various stages of patient treatment.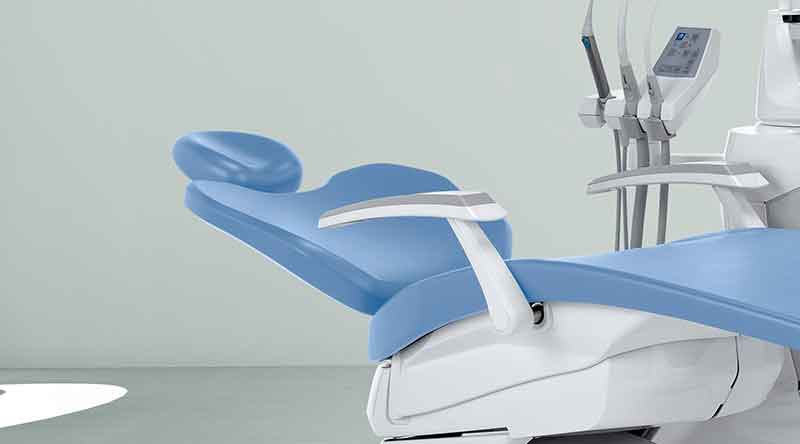 The importance of comfort
Opting for maximum comfort demonstrates attentiveness to patient well-being
Lined with hard-wearing upholstery in a wide choice of colours, the patient chair is deliberately shaped to ease the approach to the work area. Made of tough materials and featuring thoroughly tested mechanics, the patient chair has a lift capacity of 190 kg. Shaped to let dental staff move closer to the patient, the backrest is suitable for adults, children and any treatment type.
To keep up with the latest technologies, Stern Weber has provided web connectivity for its product range. This recent innovation gives access to optional digital services – which will improve efficiency at dental surgeries.

When connected to the web through Easy Check, a dental unit can rely on real time remote troubleshooting and technical support service. In addition, Di.V.A.*, the digital virtual assistant, optimises the workflow of technologically advanced dental surgeries and, via a dashboard, helps dentists monitor their use of the available instruments, analysing surgery efficiency. In larger facilities, it is an excellent tool for managing workloads and for planning maintenance.