LESS HEAT, LESS WATER, LESS AEROSOLS
ACTEON has created an exclusive technique called the Drop-by-drop Technique which can only be achieved with NEWTRON. Original ACTEON tips ensure controlled irrigation up to the tip extremity.
Set the irrigation flow rate to 0 and the power to 3 on the device.

Point the tip upwards. Increase flow rate so that the irrigation reaches the tip end, drop-by-drop.

Set device power as per the color code.

Start working with evacuation close to the tip.
• Less hand fatigue for the clinician
• More comfortable for the patient
Gentle vibrations for pediatrics and sensitive patients
Less water for disabled or geriatric patients who cannot recline for treatment
Less water for patients with sleep apnea
Soft Tissue Preservation
• No gingival damage
• Decreased cementum removal
Sleek design and soothing lights around the dial corresponding to the 
Color Coding System
.
Thin and balanced handpiece.
Flat glass surface and detachable dial for a quick and safe cleaning.
Customizable and autoclavable silicone handpiece holders.
Prophylaxis, Implant Maintenance, Scaling and Root Planing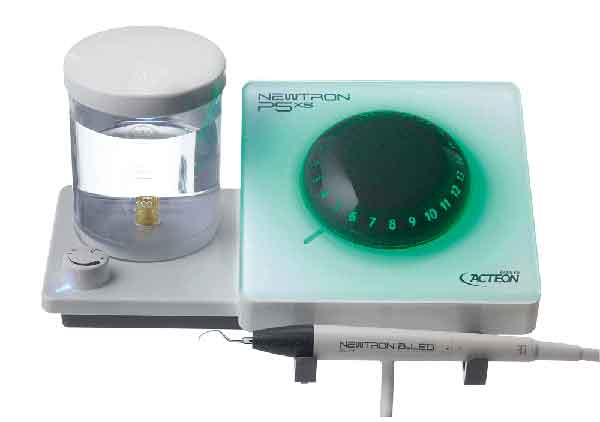 NEWTRON® offers tips with exclusive alloys and coatings that respect the different surfaces treated : enamel, crown, implant. Perform lavage before, during, and after debridement using the NEWTRON Implant Protect Tips with short, horizontal strokes and controlled irrigation flow rate to facillitate acoustic streaming, acoustic turbulence and a cavitational effect.
Medical category : IIa according to the european directive 93/42/CEE