A COMPLETE AND VERSATILE RANGE
NEWTRON® range consists of more than 80 different tips, with exclusive designs meeting all clinical needs: prophylaxis, periodontics, implant care, endodontics, surgical endodontics and restorative and conservative denstistry. The exclusive and patented Color Coding System intuitively associates each tip color ring with one of the 4 power ranges, for optimized clinical procedures.

Proven clinical protocols guide practice and facilitate treatments.
PRESERVATION, EFFICACY AND COMFORT
The perfect compatibility between the NEWTRON handpiece and tips guarantees the optimal ultrasonic vibrations transmission and a perfectly linear movement
Steel tip quality with total irrigation control
Patented color-coding technology makes power selection easy, reducing risk of tip breakage
LESS HEAT, LESS WATER, LESS AEROSOLS
ACTEON has created an exclusive technique called the Drop-by-drop Technique which can only be achieved with NEWTRON. Original ACTEON tips ensure controlled irrigation up to the tip extremity.
Set the irrigation flow rate to 0 and the power to 3 on the device.

Point the tip upwards. Increase flow rate so that the irrigation reaches the tip end, drop-by-drop.

Set device power as per the color code.

Start working with evacuation close to the tip.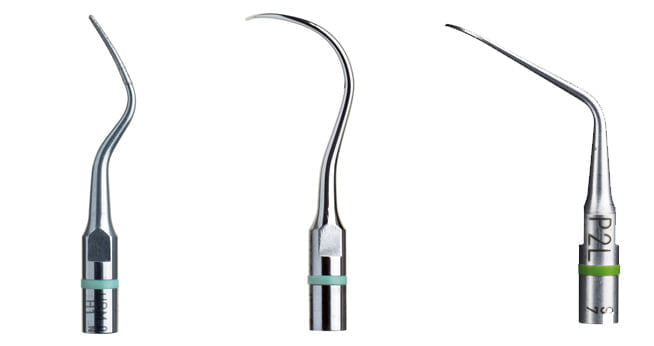 NEWTRON periodontal tips provide treatment and maintenance of periodontal pockets due to their extreme thinness. This thinness coupled with the precise vibration provided of the tip, allows atraumatic treatments reducing patient discomfort. The shape of the tip is very similar to a universal currette and the technique for use is similar.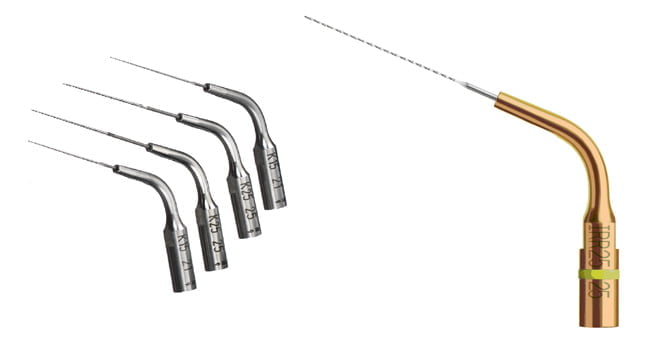 Endodontic Treatment Success with NEWTRON Devices and Tips.
ENDOSUCCESS RETREATMENT KIT
CAP (CANAL ACCESS PREP) TIPS
ENDOSUCCESS APICAL SURGERY KIT
IRRISAFE™
The wide range of endodontic tips provide the right tip for any application. Our range includes, loosening tips, broken file removal tips, irrigation tips and apical surgery tips, amongst others. They will limit your needs of other equipment while providing greater precision than a burr.
Medical category : IIa according to the european directive 93/42/CEE